"Thank you again for all of the loving care you provided to my kids and for taking the time to put together their binders filled with memories... Both kids like to look at them!" ~Karen
School Age Program
After a long day in school your child wants to relax in a comfortable, home-like environment instead of an institutional child care facility. Amy & Kids Co. school age program provides a comfortable, safe, fun place for your child to unwind, play, practice skills, and interact with caring adults.
School Age Program Participation
The school age program is available for for children who are 5-12 years old before and after school, over school breaks, and during the summer. If your child is currently enrolled at Amy & Kids Co. no additional steps are necessary; children naturally progress from preschool to school age activities as they grow and develop.
School Age Program Highlights
The school age program at Amy & Kids Co. is designed to meet the unique needs of older children. Your child can choose to participate in any planned learning activities with the rest of the group, or just chill out and spent some quiet time alone.
The School Age Program Offers:
According the National Childcare Accreditation Council, characteristics of quality child care for school age care include relationships, experiences, health and safety, and the environment. Some of the ways that my school age program provides quality care with:
A safe learning environment that promotes creativity, independence and cooperation.
A caring, educated teacher who has vast experience working with school-age children.
A wide range of age-appropriate materials and activities.
A balance of structured, teacher-directed activities and unstructured, child-initiated experiences.
Plenty of time for active play and socialization.
Opportunities to participate in meal and snack preparation.
Time for relaxation and "chilling out".
A quiet place to study, with homework assistance available.
The opportunity to interact with children of various ages.
A chance to play the role of big sister or brother and be part of a large family.
Clear, consistent limits and expectations, as outlined in the child guidance policies.
Support and encouragement for parents and families.
School Age Program Schedules and Tuition
Tuition costs for school age child care depend on the number of hours your child is in care. Families with more than one child enrolled will receive a discount on the oldest full time child's tuition. Please visit the child care tuition page for complete tuition information.
The School Age Program offers a variety of scheduling options to meet your family's needs. In addition to the regular schedules, Before and After School Care, which consists of of 1 to 3 total hours of care per day, is available for children five years old and up while enrolled in and attending school. Before and After School Care is available on a limited basis, as group size and composition allows.
School Age Program Policies
Amy & Kids Co. school age program is regulated in Wisconsin by the Department of Children and Families (DCF) In addition to the general policies of Amy & Kids Co. Family Child Care, the school age program is governed by the following policies; which fulfill DCF licensing requirements for school age care in licensed family child care programs:
School Age Program Policy - Alternate Arrival/Release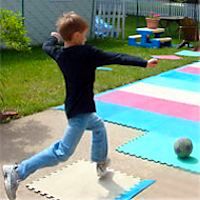 If parents wish to allow a school age child to travel to or from the center unescorted, an Alternate Arrival/Release Agreement must be completed, signed, and on file beforehand. This form can be found on the forms page of this website, and should be updated as information changes.
To ensure the safety of your child, state licensing rules require that all school age children who leave a licensed school age program unescorted must be traveling to home, school or another activity where appropriate adult supervision is present.
School-Age Program Policy - Snack
All school age children will be offered an afternoon snack upon arrival from school. School age children will be given the opportunity to help prepare and serve the snack if they wish. Check out the weekly menus to see what delicious and nutritious snacks your child will be offered each day. For more information about meals and snacks see the child care nutrition policies.
School Age Program Policy - Weather-Related Closing
In the event that local schools close due to severe weather, Amy & Kids Co. will remain open until parents can safely arrive to pick up their children. Due to my concern for your safety, parents are encouraged to pick up their children as soon as possible.
School Age Program Graduates
In addition to my own children, I've had the privilege of guiding a number of other children through their school years. Eventually these children outgrew the need for child care, graduated from my program, and went on to live independent and successful lives. Although I miss every one of them, I'm extremely proud of the people they've grown up to be, and very thankful to have been part of their lives.
If your child is among the graduates of my program, I would appreciate your taking a moment to jot down your own thoughts about the time your child spent with me. Your comments will be posted on this website for prospective parents and other visitors. Thank you very much!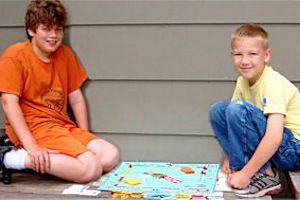 Copyright ©2007-2021 by Amy & Kids Co. Family Child Care. All Rights Reserved.