Daily Learning Activities
So what will your child do all day? Plenty! Every day at Amy & Kids Co. is a day for growth and play-based learning activities that enhance self-esteem, nurture the whole child, and set the stage for lifelong success.
Learning Activities are Play-Based
Studies show that learning through play is the way children learn best. Child-led free play is essential for children's well-being and development; new concepts, improved skills and enhanced comprehension come to children through play.
Play-based learning activities help children create and organize ideas, practice problem solving, develop longer attention spans, and learn how to communicate their thoughts, feelings, ideas, and needs to others. Free play encourages children to explore the world around them and to develop imaginations that will take them anywhere they want to go.
Objectives of Daily Learning Activities
Daily activity invitations are planned to meet specific objectives for each child, based on individual age and level of development.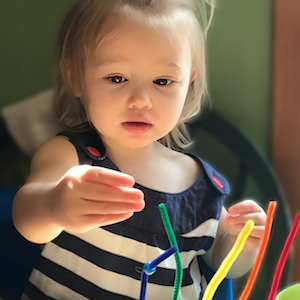 Our daily learning activities:
Foster positive self-esteem.
Encourage the development of communication and social skills.
Support independence and problem-solving skills.
Strengthen skills across all domains.
Develop healthy habits to last a lifetime.
Stimulate imagination and creative expression.
Promote tolerance and unbiased attitudes.
Consider the individual needs of each child.
Daily Activities Provide Balance
Ample time, materials and space is allowed for the children's interests to guide their learning. Daily learning activities provide a balance of teacher-planned activity invitations and child-led exploration in carefully planned learning centers.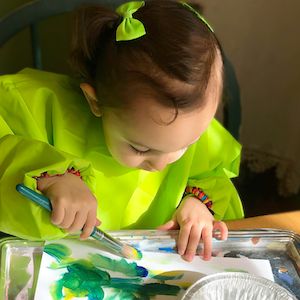 Some activities your child will enjoy include:
Exploring books, listening to stories, writing and alphabet activities
Doing puzzles, lacing cards, and Montessori transfer activities
Building with blocks, Magna-Tiles, and other construction materials
Exploring a wide variety of free art materials
Cutting, gluing, taping, and paper punching
Free access to play dough and play dough tools
Engaging in music and movement, rhyming, and singing
Early math and science counting, sorting, weighing, estimating, etc
Plenty of time outdoors to move their bodies
And much, much more!
Daily Activities Include Rest Time
After a busy morning we're ready for a break! Active children need rest to experience proper growth and development. Your child is welcome to bring a favorite toy or blanket for naps.
Screen Time is Not a Daily Activity
Screen time is a part of everyday life for most families, so our occasional screen time fits the family-style environment at Amy & Kids Co. We mainly watch book "Read Alouds" and animated stories that fit with other learning activities, but may also have screen time in the basement during tornado warnings.
Outdoor Learning Activities
Learning doesn't stop when we go outside! Our outdoor classroom offers the same large and small motor, math, science, art, music, and imaginative play learning opportunities as indoors, plus the opportunity to explore and learn about nature!
Amy & Kids Co. is proud to be the first Nature Explore certified outdoor classroom in Appleton. Nature Explore classrooms apply research-based, field-tested principles to create beautiful, nature-rich outdoor spaces designed especially to enhance children's learning and play.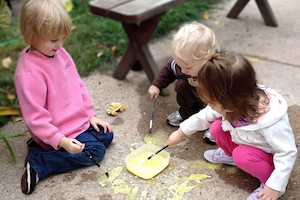 "I was impressed with her interest in providing opportunities for exploration and growth via a combination of free play, age-appropriate directed activities, and various routined responsibilities" ~Karen