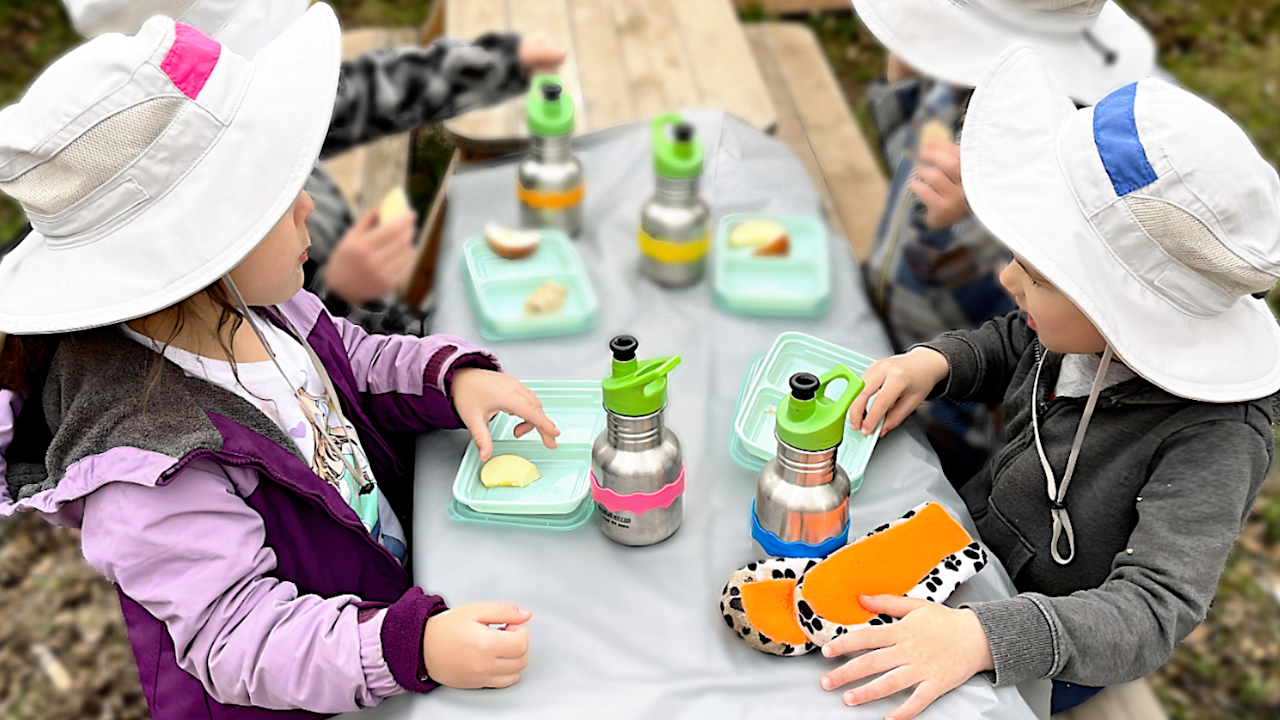 Child Care Wellness Policies
Your child's overall well-being is my main concern; eating well and being physically active are key to maintaining a healthy lifestyle.
Wellness Policy - Nutrition
One in four children in America are showing the same signs of serious malnourishment as children in Africa. However, in America this is due more food quality rather than quantity. Nearly 30% of calories in the average American diet come from processed, fast, and junk food, which provide very little nutrition.
Amy & Kids Co has adopted these nutrition-based wellness policies to address nourishment issues, help prevent childhood obesity, and promote the development of lifelong healthy habits.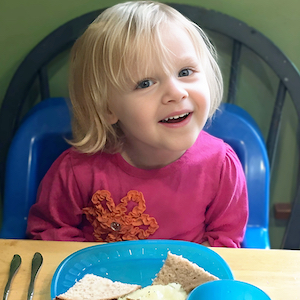 Meals and snacks will take place at a table. Children will not walk around with food or drinks, including infants with bottles.
Foods are served family style; children are encouraged to serve themselves and decide how much to eat.
Parties and celebrations focus on healthy foods and minimize special treats.
Child Care Wellness Policy: Drinks
Fresh water is always available for children to access independently. Infants will be offered water several times daily.
Children 2 years and older will be served unflavored 1% or skim milk; children 12-24 months will be served unflavored whole milk.
Juice will be served rarely, only to children over 12 months, and will be 100% fruit or vegetable juice.
Soda and sugary drinks like Kool-Aid will never be served.
Child Care Wellness Policy: Meals
An assortment of fresh fruits and vegetables, with an emphasis on seasonal produce, will be served regularly.
Whole grains will be served at least once each day.
A variety of proteins, such as legumes, cheese, eggs, fish, poultry, and meat will be offered.
Processed foods will be limited. Foods will be made "from scratch" in a manner that reduces fat, sugar, and sodium, as time allows.
Child Care Wellness Policy: Weekly Menus
A four-week cycle of weekly menus that change with the seasons are planned with the above guidelines in mind.
Weekly menus include seasonal foods, as well as foods from a variety of cultures.
Special dietary needs and food allergies will be supported. Weekly menus will adapt so children with food allergies or special dietary needs can eat the same foods as the other children.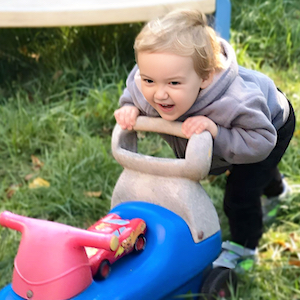 Child Care Wellness Policy - Physical Activity
The average child is less active now than at any other time in history, with disastrous results. It is estimated that childhood obesity has more than tripled in the past 30 years, and up to one-third of all children now have a weight problem.
The following wellness policies promote physical activity, combat childhood obesity, and help promote an active lifestyle:
Child Care Wellness: Physical Environment
Children of all ages will have ample open and safe space for moving and being active.
A rotating variety of safe indoor equipment will be available.
Children will have access to large outdoor play equipment every time we're outside.
A wide variety of outdoor portable play equipment will be available to choose from.
Child Care Wellness Policy: Active Time
Children will have an opportunity to play actively at least 60 minutes each day, preferably outdoors.
Screen time will be limited, and consist of book read-alouds or animated books. No child will be forced to watch a screen.
Inactive time will limited as much as possible; a balance of quiet and active activities will be available daily.
Child Care Wellness - Education
Children will offered wellness education that promotes good nutrition and physical activity through discussions, books, games, and other activities.
Parents will receive wellness materials such as handouts, articles, and links to online resources.
Teachers will receive training in nutrition and/or physical activity regularly.
Commitment to Child Wellness
I believe that it's just as important for children to develop a healthy lifestyle as it is to learn the "ABCs and 123s." As a member of Let's Move! Child Care and 2011 recipient of a CACFP Wellness Grant, I am committed to promoting child wellness and helping the children in my care to grow happy and healthy.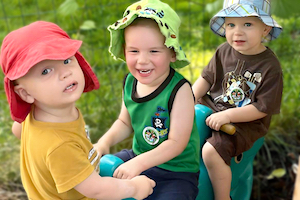 Hat's off to you! Thank you for all the wonderful care you give to our son! ~ Issac & Monica