"Thank you to you and your family for being an inspiration to ours. We are incredibly grateful to have such a wonderful partner in raising our son." ~Kristi & Jeff
Family Child Care Center Staff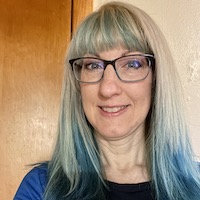 Hi, I'm Amy - owner and operator of Amy & Kids Co. Family Child Care.
Amy & Kids Co. is not just another child care center - we're a family. In this modern age where many children live far away from grandparents, aunt and uncles, cousins, and other family members, Amy & Kids Co. Family Child Care provides the opportunity for your child to experience the joys of being part of a large extended family. Although my family members aren't official "child care staff" they are an integral part of my child care program.
Child Care Center Support "Staff"
My husband has always been a huge source of support for me, and for the child care program.
You'll most likely see him at some point of the day. In the morning you may bump into him as he heads off to teach his fifth grade class, and at the end of the day you may find him lighting up the grill or working on dinner in the kitchen. I apologize in advance if the delicious aromas make you hungry.
Substitute Child Care Center Staff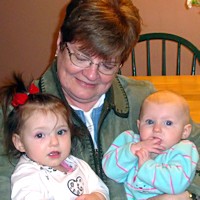 High quality caregivers are the heart and soul of every good day care center, and substitute caregivers are no exception. My mom, known to all the children as "Grandma," is our regular substitute caregiver.
She has completed the same training as group child care center staff members: the required entry-level training in early childhood education and infant and toddler care, CPR (Cardio-pulmonary Resuscitation), First Aid, the prevention of Shaken Baby Syndrome and SIDS (Sudden Infant Death Syndrome), and detecting and reporting Child Abuse. Even when she's not substituting, "Grandma" often stops by to visit and get a "baby fix."
Additional Child Care Center "Staff"
"Grandpa" is a regular visitor to our house. During the school year he is our children's main means of transportation for school and after-school activities, and he often prefers to stop by to talk to us rather than pick up the phone.
"Grandpa" loves children and always makes sure to greet each them, lifting them up for a quick hug if they ask. Since "Grandma" and "Grandpa" live so close it's unusual for a week to go by without seeing at least one of them.
Assistant Child Care Center "Staff"
Our six children have grown up with the family child care center as a part of their everyday lives. As young children they played with their child care friends, and as they grow older they still enjoy spending time with the children and helping out when they can.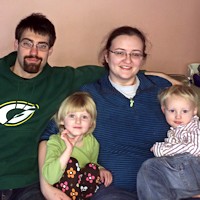 Our eldest son and his wife live nearby and bring their son and daughter for care several days a week, in addition to dropping by to visit now and then. When they're here for a visit they enjoy talking and playing with the children.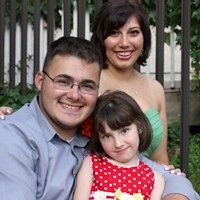 Our older daughter and her husband also live in the area and bring their daughter for care occasionally when school is closed. You may see our son-in-law lending a hand with leaf raking or snow shoveling, and our daughter helping to prepare meals or reading books to the children.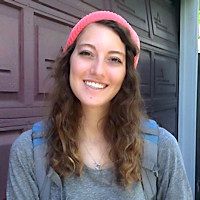 Our younger daughter is a commuter student studying Early Childhood Education at UW-Oshkosh. Even though work and school keep her busy she's been known to drop everything to participate in an art activity, or play with the children.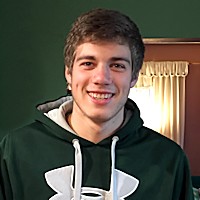 Our high school aged son is busy with school, a part-time job, co-curricular activities, and neighborhood friends. Although he's rarely around now, he enjoys interacting with the children when he sees them.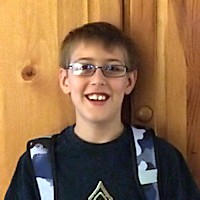 Our middle school age son is starting to get involved in co-curricular activities and sports but when he's home he enjoys having snack and playing with the children. He especially loves reading to them, and cuddling the little ones.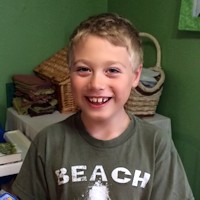 Our youngest son is also in school full-time, but looks forward to playing with his child care friends after school. He also enjoys reading to the children and will willingly read a whole stack of books without stopping.
We feel very blessed to have been raised in a family that loves and values children, and are glad we can share the large family experience with your child.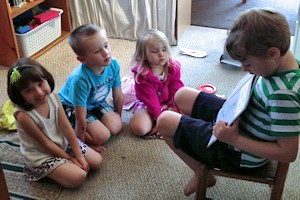 Copyright ©2007-2022 by Amy & Kids Co. Family Child Care. All Rights Reserved.