"My husband and I feel blessed that not only are our children taken care of splendidly... they are encouraged to learn and explore the world around them..." ~Erin
Quality Child Care Program
Studies show that children who attend a high quality child care program are better prepared to enter school, more likely to complete high school, attend college, and become successful adults. My child care program provides the high quality care your child needs to succeed in life!
Quality Child Care for All Ages
I want to help you nurture your child's healthy development. My high quality child care program enables children of all ages to learn and grow healthy, happy, and strong at their own pace.
Infants and toddlers aged two weeks to two years old receive consistent, positive attention in a cozy, loving home environment where they will grow and thrive.
Preschoolers aged two to five years are encouraged to discover new things, develop social/emotional skills,and become more independent in a safe, supportive setting.
School age children aged five years through twelve years benefit from the comfortable, home-style atmosphere, one-on-one attention from caring adults, and opportunities to assist younger children and be a role model.
My Child Care Program is State Licensed for Quality
In Wisconsin, child care programs can choose to be state licensed, county certified, or unregulated. I choose to be state licensed because I believe licensing promotes the highest quality child care for children. A state licensing specialist regularly pays a surprise visit to evaluate my child care program with regard to health and safety, adult-child ratio, caregiver training, equipment, nutrition, behavior and guidance procedures, and other hallmarks of a quality child care program. The results of these visits are always available to the public.
Quality Child Care Program Highlights
Amy & Kids Co. quality child care program is carefully designed to provide everything your child needs to thrive at every stage of development. Your child will enjoy learning in the relaxed play-based learning environment!
My Quality Child Care Program Offers: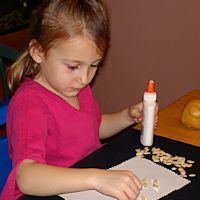 A state licensed quality child care program that meets all health and safety quality standards to make sure your child is safe and well-cared for at all times.
A child care provider with a vast knowledge of child development, years of experience caring for children of all ages, and a strong love of children.
Enrollment for children aged two weeks to twelve years, so siblings can stay together and you won't need to take children of different ages to different locations.
Small group size that fosters strong friendships, develops social skills through peer relationships, and allows each child to enjoy lots of individual attention.
A safe, child-centered home learning environment that promotes independence and child-led learning in art, math, science, social studies, language, music, physical development, and more.
Delicious, nutritious meals that exceed Federal standards, teach lifelong good eating habits, and are actually liked by the children!
Developmentally-appropriate toys and materials that are rotated to meet the children's interests and needs so the children are never bored.
Daily learning activities that provide for each child's individual social, emotional, language and physical development – and are so much fun that the children don't realize they're learning!
A well-planned daily routine that children thrive on: flexible, yet predictable, with a healthy balance of structured and unstructured time.
Mixed age grouping where children experience different roles in a family, build self-help skills, and learn how to get along with others.
An eco-healthy program that reduces your child's exposure to toxics and other environmental health hazards while promoting optimal health through natural, eco-friendly strategies.
Gentle yet firm child guidance procedures that promote positive self-esteem and teaches self control and socially acceptable ways of expressing needs and feelings.
Large, fenced-in outdoor classroom and play yard with a variety of learning activities as well as plenty of room for children to run, play, and practice using their whole body.
American Sign Language (ASL) signs are used to help pre-verbal infants communicate, then are continued and expanded upon throughout the preschool and school-age years.
Comprehensive policies to provide peace of mind for you and to enhance the quality of care your child receives.
Low Group Size Enhances Quality Child Care
I believe that the lower child-to-caregiver ratio in family child care provides a higher quality of care for the children. Each child's individual needs can be met more easily than in a large group center, and the small group size promotes close relationships and the feeling of being a family.
Amy & Kids Co. is licensed for a maximum eight children; the number of children actually in care depends on the children's ages and schedules. Visit the Enrollment page to enroll your child in my program!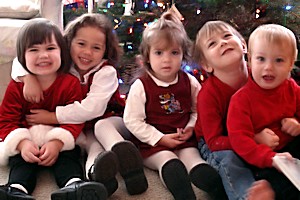 Copyright ©2007-2022 by Amy & Kids Co. Family Child Care. All Rights Reserved.