"With the knowledge Amy passed on to my children my youngest was able to skip Kindergarten because he was already prepared for First Grade! - Lainie
Daily Activities
So what will your child do all day? Plenty! Every day at Amy & Kids Co. is a day for growth and play-based learning with daily learning activities that enhance self-esteem, nurture the whole child, and set the stage for lifelong success.
Objectives of Daily Learning Activities
Daily learning activities include a balance of child-led exploration and teacher-planned activities. Ample time, materials and space is allowed for learning through free play, when the children's explorations can guide their learning. Scheduled daily activities include specific objectives for each child, according to individual age and level of development. Daily activities for children of all ages are designed to:
Foster positive self-esteem.
Encourage the development of communication and social skills.
Support independence and problem-solving skills.
Strengthen small and large muscle skills.
Develop safe and healthy habits to last a lifetime.
Stimulate imagination and creative expression.
Promote tolerance and anti-bias attitudes.
Consider the individual needs of each child.
Daily Activities Support Play-Based Learning
Studies show that learning through play is the way children learn best. Child-led free play is essential for all children's well-being and development; new concepts, improved skills and enhanced comprehension come to children through play.
Playful daily activities help children learn to create and organize ideas, become more flexible in problem solving, develop longer attention spans, and practice communicating their thoughts, feelings, ideas and needs to others. Free play encourages children to explore the world around them and to develop imaginations that will take them anywhere they want to go.
Meals are Daily Learning Activities
Mealtimes are daily learning activities in and of themselves! Mealtimes are a natural time to teach healthy eating habits through discussion and carefully planned weekly menus. Meals are served "family style" which promotes the development of small muscle skills and eye-hand coordination as the children serve themselves, while meal-time discussions help increase communication skills and vocabulary.
Toys are Essential for Daily Learning
Toys are the learning tools of children. The toys and materials at Amy & Kids Co. are carefully selected to encourage language development, large and small muscle development, creativity, imagination, self-help skills and cultural awareness. Toys and materials are rotated as appropriate to reflect children's current interests and learning goals.
Because it is often difficult for a child to share a beloved plaything, please do not allow your child to bring toys to Amy & Kids Co. I have plenty of toys for everyone and can not be responsible for the loss of or damage to any toys that your child may bring.
Daily Learning Activities Continue Outdoors
Learning doesn't stop when we go outside! Outdoors is the obvious place for daily activities that develop large muscle skills, explore nature, and introduce math, science, and social studies concepts. Art activities, music and movement, and imaginative play also occur outdoors.
Amy & Kids Co. is proud to be the first Nature Explore certified outdoor classroom in Appleton. Nature Explore classrooms apply research-based, field-tested principles to create beautiful, nature-rich outdoor spaces designed especially to enhance children's learning and play.
All children, including infants and toddlers, will play outdoors daily if the Wisconsin weather permits. Weather that keeps us indoors includes:
Steady rain or storms.
Temperatures below 20° with wind chill.
Temperatures above 90° with heat index.
Daily Activities Require the Proper Clothing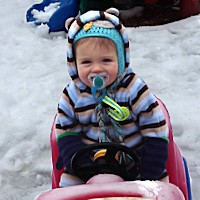 Actively playing children get dirty and may be rough on their clothing, so sturdy "play" clothes are the best choice for daily wear. In addition, choosing clothing that your child can easily manage will help her develop independence. Since our outdoor classroom encourages learning through active play, exploration, and getting messy, your child needs appropriate clothing in order to enjoy our outdoor activities. Please plan for your child to have the following items during the appropriate season:
A sweatshirt or light jacket during the spring and fall. (Also consider rain boots in the spring)
Boots, snow pants, mittens and a hat during the winter.
An initial application of sunscreen at home in the summer.
All items should be clearly marked with your child's name and taken home regularly for cleaning.
Daily Activities and Pets
Pets can add an extra amount of love and excitement to daily activities. Currently there are several house cats for your child to enjoy. Some of the cats may often be found napping in the areas where the children play, while others are shy and prefer to be alone during the day. All of the cats are patient with the children as long as they are not mishandled, and the children's interactions with them are monitored as closely as possible. All available vaccinations of pets are kept current and a record kept on file. Pet care equipment, including cat food, water, and litter boxes, are in areas inaccessible to the children. Please let me know if your child is allergic to cats.
Daily Activities Include Naps
After a busy morning we're ready for a break! Active children need rest to experience proper growth and development. In addition, licensing regulations require that children under the age of five lie down to nap every day.
Children under one year old will sleep in a porta-crib without a pillow. SIDS prevention strategies will be followed; see the Safe Sleep Policy for more information.
Children one to two years old transition from the porta-crib to a nap mat at an individually appropriate time.
Children two and older will use a nap mat with pillow and blanket for nap time.
Children who are five or older will have a quiet rest time every day where they can look at books or play quietly by themselves.
Each child over one year will be provided with his/her own sheet, pillow, and blanket, which will be laundered when soiled or after every five uses.
Your child is welcome to bring a favorite toy or blanket for naps. These items may be left at child care or taken home. Items that are left at child care will be laundered regularly with the rest of the child's nap bedding.
Religion Plays a Part in Daily Activities
My family and I are Christians and our faith is an integral part of our everyday lives. While I do not follow a religious curriculum, daily activities at Amy & Kids Co. may include Christian songs, books, and the like. Both Christian and secular holidays are celebrated.
Daily Activities Include Holidays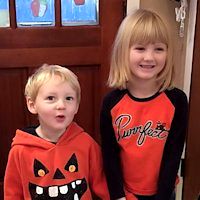 Children look forward to holidays and enjoy celebrating them each year. Some of the holidays we celebrate include Valentine's Day, Easter, Fourth of July, Halloween, Thanksgiving, Christmas, and each of the children's birthdays.
Parents are always welcome to celebrate holidays and birthdays with us, or to send a special treat to help us celebrate. When sending holiday or birthday treats please consider nutrition, and the number and ages of children currently in our group.
Neighborhood Walks are Learning Activities
We often take walks around the neighborhood to enjoy the scenery and see how familiar landmarks are changed by the seasons. Along the way we may stop to watch construction, chat with neighbors, examine an interesting bug, or collect leaves, dandelions, or other signs of the season. Depending on individual age and ability, children will be worn in a sling or infant carrier, pushed in a stroller, pulled in a wagon, or walk along with me. Emergency information will be taken whenever we leave the premises.
Daily Activities and Transportation
Due to the challenges of transporting young children safely and my concern for your child's well-being, Amy & Kids Co. does not provide transportation in any form, including walking children to and from Lincoln Elementary or any other destination. In case of an emergency, 911 will be called and any ambulance or other transportation costs incurred will be the parent's responsibility.
Daily Activities - Screen Time/TV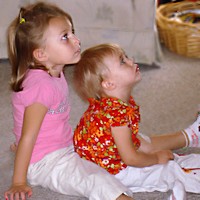 Screen time, such as watching TV or videos and playing on an electronic device, is a part of everyday life for most families. While participating in screen time at Amy & Kids Co. would be in keeping with the family style environment, we only do so occasionally. When used, screen time will only consist of content that is appropriate for young children. Some of the ways we use screen media include watching YouTube book "Read Alouds" or the "Reindeer Cam" on the iPad, or TV/DVDs in the basement during tornado warnings and severe weather situations. Because screen time isn't part of our usual routine please do not allow your child to bring videos, DVDs, or electronic devices without prior arrangements.
Daily Activities are Routine
Daily learning activities are a natural part of a well-planned daily routine. Our daily schedule is flexible, yet consistent, so the the children feel secure. Each day revolves around the children's needs; not the clock!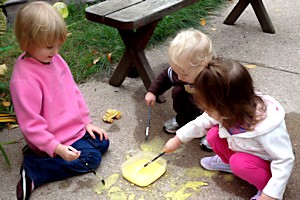 Copyright ©2007-2022 by Amy & Kids Co. Family Child Care. All Rights Reserved.