"I would recommend Amy as a high quality early childhood provider in the Valley." ~Robin
Child Care - Appleton WI
Located near the heart of Appleton WI, Amy & Kids Co. is just a short drive from your home or workplace!
Searching for a Child Care Program in Appleton WI?
Conveniently situated in Appleton WI, my child care program is surrounded by the major thoroughfares of College Ave, Wisconsin Ave, Mason St, and Richmond St - a quick and easy drive from almost anywhere in the city! It's just five minutes from both AMC and downtown Appleton, or a brief ten minutes from the Fox River Mall.
Transportation to Child Care - Appleton
Due to my concern for children's safety I do not transport, however the city of Appleton provides many safe ways for its children to get to child care. I've had children arrive via Valley Transit City Bus and Kidz Kab. The Valley Transit Bus Stop is less than two blocks away and Kidz Kab drivers walk children to my door. How convenient is that?
School Age Child Care in Appleton WI
Save gas, save money, and save the environment by having your school-age children walk to and from my child care program. It's just blocks away from Appleton's Lincoln Elementary; perfect for before or after school care! Save time by bringing your youngest children here after you've dropped your older ones off at Lincoln. After school they can walk here for after-school care so you'll have just one pick-up location at the end of your long day!
Child Care for Appleton Teen Parents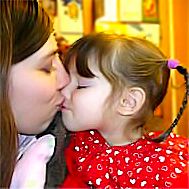 Being located near Appleton West High School is beneficial for families with both high school age and very young children - like ours! Your high-school student can drop siblings off at child care on the way to school and take care of pick-up on the way home.
In addition, teen parents are encouraged to consider my child care program for their needs. Having been both a teen parent and the mother of a teen parent, I know firsthand some of the unique challenges teen parents face and am eager to help!
Amy & Kids Co. Family Child Care, Appleton WI
Located in a quiet Appleton, WI neighborhood, Amy & Kids Co. Family Child Care is easy to find:
Looking for Child Care, but not a Resident of Appleton WI?
You don't need to live in Appleton WI to enroll in my program! In the past I've had families from Menasha, Darboy, and other Wisconsin Fox Cities bring their children to my child care program.
It may not be "just around the corner" but these parents felt that the high quality care provided by my child care program was worth a few extra minutes in the car. Turn those extra minutes into a special time with your child by singing favorite songs together, talking about plans for the night, or just enjoying the chance to chat with your child. They grow up so quickly - make the most of every moment!
Why Choose Family Child Care in Appleton WI?
Family child care providers pour their hearts and souls into their programs. They don't choose family child care as a career to make lots of money, but because they love children and want to provide the good start in life that all children deserve. But that's just the tip of the iceberg; there are many more reasons why families choose family child care!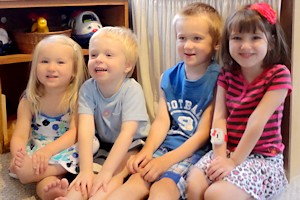 Copyright ©2007-2021 by Amy & Kids Co. Family Child Care. All Rights Reserved.