"...most importantly a childcare provider with a strong history of raising her own amazing 6 children and partnering with parents to raise years of daycare kids." ~Kristi
Child Care Parent Corner
Welcome to the Child Care Parent Corner! My goal for the Parent Corner is to provide parents with current news from Amy & Kids Co. as well as helpful resources and other information.
Parent Corner Information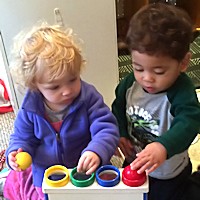 I'd rather spend my time playing with the children instead of staring at a computer screen, but I'll do my best to keep the Parent Corner updated - feel free to remind me if I forget!
For the most up-to-date news, check out our Instagram photos in the right sidebar and Facebook feed at the bottom of this page.
Please also take a moment to look over the wish list to see if any of your unwanted "trash" could be our "treasure!"
Upcoming Events
September 1: PK's 1st Anniversary. Happy Anniversary P!
September 2: OJ's 2nd Anniversary. Happy Anniversary O!
September 4: Closed for Labor Day.
September 5: EF's First Day. Welcome E!
September 13: Late start due to health screening.
September 15: Scholastic Book Orders due. Online code GLT99
September 28: Friendship Snack Mix
October 14: Not closed - conference date changed. Sorry for the inconvenience.
October 23: ED's first day. Welcome E!
November 3: Closed to prepare for local Early Childhood Conference.
November 9: Tentatively closed to attend statewide Early Childhood Conference.
November 10: Closed to attend statewide Early Childhood Conference.
Lesson Plans
Click on the thumbnail below to see this month's lesson plans.
Facebook Feed
Check out what's happening at Amy & Kids Co. right now!
Parent Corner - Social Media
Social media is an important part of everyday life for many parents. You can connect with Amy & Kids Co on your favorite social networking sites:
Parent Corner - Wish List
Parents of enrolled children can simply drop donated items off when they bring their child for care. If you do not have children enrolled, please contact me to arrange for a time to stop by.
Donations of items not on the list are also happily accepted, however we do not use "commercialized" items, like those based on TV shows or movies. Items don't have to be new; we like gently used items too, as long as they're clean and safe for the children. Thank you for your support!
Books from Half.com
Other Child Care Items
Kleenex brand tissues.
Clorox brand disinfecting wipes.
Dr. Bronner's liquid castille soap.
Outdoor pillows or cushions.
Child-size coat tree for outdoors.
Sturdy shovels and buckets for the sand box.
Parent Corner - Our Partnership
Studies have shown that children do better when parents and teachers work together for the child's well-being. Discover how our partnership will result in mutual benefits, and will also benefit your child!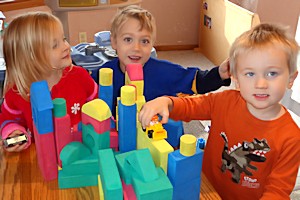 Copyright ©2007-2017 by Amy & Kids Co. Family Child Care. All Rights Reserved.