"We are so incredibly satisfied with the outstanding care... We would refer anyone looking for a loving place to send their child to Amy in a heartbeat!" ~Sarah
Child Care Daily Schedule
Our daily schedule is carefully designed to promote children's learning and development through a balance of child-led free play and engaging and planned learning opportunities.
A Child Care Daily Schedule Encourages Success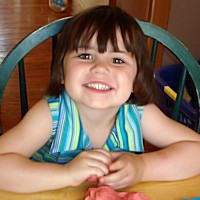 Studies show that children learn differently than adults and have different daily needs than adults have. Our daily child care schedule is designed to make the most of these differences and meet the needs of your child by providing a flexible, balanced routine that maximizes learning through play.
Daily Schedules Provide Routine
Children need consistency in their daily routines. They thrive on routine, it helps them make sense of the world and gives them a sense of security. An appropriately structured routine can help reinforce positive behaviors in children and minimize negative behaviors.
Young children, especially, have problems dealing with disruptions and disorganization throughout the day. When children cannot depend upon a routine or a routine is changed often, their behavior tends to reflect the routine - chaotic and inconsistent. Our daily child care schedule provides routine and structure for children so that they know what to expect from day to day.
Our Child Care Daily Schedule is Flexible
Our daily schedule provides a basic framework for our days, but is not rigid. Rigidity in a schedule offers its own set of problems. When children are especially engrossed in their play, or a daily activity demands a few additional minutes, it is beneficial to adjust the schedule to accomodate the activity.
Problems can result when children are regularly asked to stop engrossing work to engage in something less meaningful. This can promote negative or destructive behavior in the child. The child care schedule schedule may vary on a daily basis because it is based on the children's interests and needs. It also varies according to the weather and the season; we spend much more time outside when it's nice out and more time inside when it's not.
Our Child Care Daily Schedule is Balanced
The daily child care schedule at Amy & Kids Co. Family Child Care is designed so that children can choose from a variety of educational and recreational activities. Children need a balanced schedule that alternates long active periods with short quiet times, and brief teacher-led instruction with ample child-led learning through play. All activities are guided by the children's interests; structured activities are available for the children to participate in if they desire but children are not forced to participate. No child will ever be required to watch TV or a video; other activities are always available when the TV is on.
Play-Based Child Care Daily Schedule
Young children are naturally curious and learn best by exploring and discovering for themselves through play. Play is essential for children's learning and development; new concepts, improved skills and enhanced comprehension come to children through play. Children's senses help them to experience the world around them, and their imaginations take them anywhere they want to go.
While playing, children learn to originate and organize ideas, become more flexible in problem solving, and develop longer attention spans. Children also learn to communicate their thoughts, feelings, ideas and needs to others during play. Our daily child care schedule provides plenty of time for children to play in a rich learning environment.
Our Child Care Daily Schedule
Although our daily schedule is flexible, the same events occur in the same order every day, which helps the children feel secure. The vast majority of our day is spent in child-led free play or engaging teacher-planned learning opportunities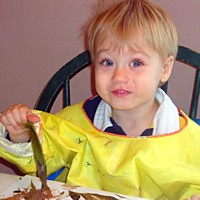 Program Opens promptly at 7:00 AM. Please don't bring your child for care before 7:00 a.m. without making prior arrangements.
Arrival can sometimes be hard for children. Learning to say good-bye to people we love isn't easy and takes time; even adults sometimes struggle with this despite years of practice. Because learning to be comfortable with separation is part of becoming independent, I will help ease the transition from home to school each morning.
Free Play in a thoughtfully planned learning environment that features interesting activities and materials engages children and encourages their exploration and learning. Children need plenty of free, unstructured play time to develop socially, emotionally and cognitively.
Breakfast is a natural learning opportunity! Children learn about nutrition, practice language, social skills, and table manners, develop positive attitudes towards food, strengthen their self-esteem, and develop independence.
Clean Up is encouraged as soon as children are able to put a toy in a basket.No child is forced to clean up, but singing songs, playing games, and other positive reinforcement motivates children to help. Cleaning up enables children to take pride in a job well done, reinforces pre-math sorting skills, promotes both large and small motor skills, and improves both self-esteem and independence.
Play Invitations are offered to enrich the children's daily experiences. They are based on the children's interests, a particular skill they are working on or a theme we're exploring, etc., and feature specific curriculum areas such as art, music, math, science, social studies, literature, and small or large muscle movement. Children are given the choice whether to participate or not, and their choice is respected and supported.
Outdoor/Active Play helps develop a lifelong habit of physical activity for increased health, contributes to children's growth and development, and lays a solid foundation for future learning. Children who regularly enjoy fresh air, sunshine, and exercise sleep better.
Free Play is vital for children's learning because it forms the foundation of intellectual, social, physical and emotional skills necessary for success in school and in life. It also allows children to use their creativity, acquire and practice social skills, and solve problems.
Lunch is the perfect opportunity for children to slow down and enjoy each other's company in a relaxed atmosphere. The children help set the table and clear their own places afterwards. They serve themselves "family style," which promotes self-help, motor, and decision-making skills. Good table manners are promoted, and children are encouraged to decide whether their tummies are full enough.
Story Time is a daily occurance. Reading to children promotes imagination and pre-reading skills, and helps develop a love of reading. Studies show a strong correlation between children who love to read and academic success.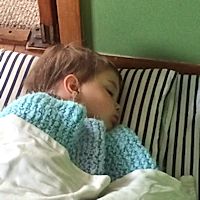 Naps / Rest Time is important for all children. Their growing bodies need time to rest while their busy minds need time to catch up with all the information they absorb. According to a 2013 study, naps enhance memory and support learning in children of all ages.
Snack consists of two food groups with water to drink. Water makes up more than half of a child's weight so a steady supply is necessary to keep children's bodies working properly. General recommendations are 1/2 ounce of water per pound of body weight per day; more in warm weather or when children are active.
Departure can be as difficult as arrival; often a child who is reluctant to come in the morning won't want to go home at night. Please take a minute to let your child reconnect with you before leaving. I realize this can be hard at the end of the day, but it makes the transition easier for your child.
Program Closes promptly at 5:00 PM; please be sure to pick up your child before closing time. As much as we love our jobs, we're all tired and ready to unwind after a long day of work, and my family time is as precious to me as I'm sure your family time is precious to you.
Child Care Daily Schedule as Curriculum
The daily schedule plays an important role in our curriculum too! Visit our Child Care Curriculum page to see how the daily schedule, responsive relationships and a child-centered environment work together to promote children's learning and development.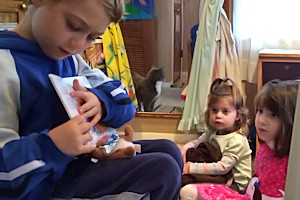 Copyright ©2007-2022 by Amy & Kids Co. Family Child Care. All Rights Reserved.