The amount of care given was above and beyond a typical daycare provider; Amy had a genuine care and love for our children. ~ Mark & Taya
Why Choose Family Child Care?
In today's society, a majority of parents with young children are working outside the home full time. These parents need quality care for their children, and are discovering that family child care programs naturally provide the individualized attention young children need.
What is Family Child Care?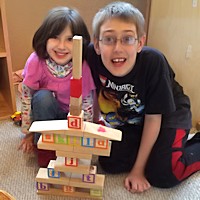 Family child care, also known as in-home child care, is child care offered by an individual in a home setting. Most often the care is provided in the provider's own home, although some states do not require family child care programs to be located in a residence.
Family child care centers generally care for a smaller number of children than group centers, however the total number of children allowed in a family child care group varies from state to state. In Wisconsin, family child care providers may care for no more than eight children total; including the provider's own children who are under seven years old.
What Family Child Care is Not
Professional family child care providers are not babysitters! Quality family child care providers are so much more; they pour their hearts and souls into their program, take pride in their business, remain at the leading edge of their profession, and constantly look for ways to improve. They choose family child care as a career because they love children and want to provide the good start in life that all children deserve.
Why Choose a Family Child Care Center?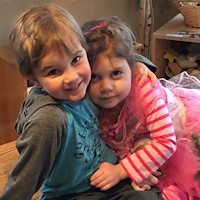 There are many reasons why parents choose family child care over group center care. Here are just a few – in no particular order:
Environment: The familiar home-based family child care environment provides an easy transition from a child's own home to child care. Instead of an institutional "school" type of setting, children spend their day in the warmth and comfort of a home away from home.
Attachment: Family child care programs are traditionally run by a single provider who cares for each child from infancy through school-age. Children in group centers often are cared for by several different caregivers every day, and experience an overall lack of consistency due to high turnover rates.
Mixed Ages: Children in a family child care center benefit from learning in a mixed-age group. Siblings can be together all day, while children without siblings can experience the joys of having older and younger brothers and sisters.
Low Group Size: Family child care programs generally care for small groups of children, which provides a calmer atmosphere and allows for each child to receive lots of time and individualized attention from the provider. In addition, the smaller group size decreases potential exposure to germs and illness.
Convenience: Although quality care is worth driving across town for, many parents find good family child care centers near their homes. Some family child care programs offer flexible scheduling options like care before and after typical business hours, second or third shift care, overnight care, and weekend care.
Support: Family child care providers can be a great source of support for the families of the children in their care. Many families find that their family child care provider and her family become like extended family over the years.
What Requirements Must Family Child Care Providers Meet?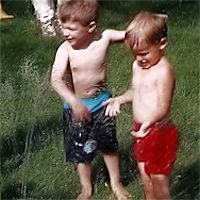 Regulations requirements vary from state to state. Some states allow for unregulated care while others require regulation for anyone who cares for a non-related child. Check with your state's division of children and families to see what the requirements are in your area.
Wisconsin offers two types of regulation for family child care centers: state licensing and county certification.
State Licensing: State licensing is required for providers who care for four or more children under the age of seven that are not related to the provider.
County Certification: County certification is a voluntary form of regulation in Wisconsin for family child care centers that are not required to be licensed but wish to enroll families who receive child care subsidies.
Regulated family child care providers who follow state guidelines offer loving care without sacrificing the qualify of their programs. They know their programs really are serving children's best interests.
How to Find Quality Family Child Care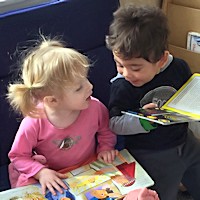 There are several ways to find quality family child care. Most states have a Child Care Resource and Referral agency that can help families find child care that meets their particular needs. Professional child care organizations and corporate networks can also help in the search for family child care. You may also be able to find potential family child care centers through your state child care licensing bureau, or with an online search.
Family Child Care Testimonials
Finding the perfect family child care provider for your family may seem like a difficult task, but don't worry, there are plenty of great family child care programs to choose from, and your child is worth the effort!
Parents often want to know what other families think about the child care program their children attend. After all, if a family like yours loves their provider, chances are that you will too! Read what parents say about my program, then discover why you should choose Amy & Kids Co. for your child. You'll be glad you did!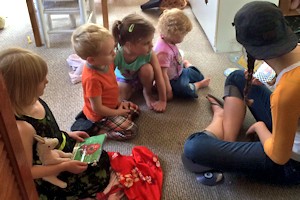 Copyright ©2007-2022 by Amy & Kids Co. Family Child Care. All Rights Reserved.