"She has been dedicated to her work... continues to strive for new ideas; sharing her knowledge and experience with others." ~ Robin
Child Care Provider Credentials
I have worked hard to gain the experience and expertise that enable me to provide quality care and education for your child.
Star of the Region Award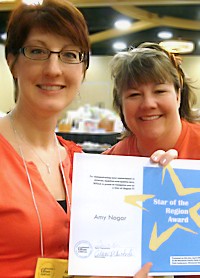 In 2011 I was excited and humbled to be selected as the first recipient of the Wisconsin Family Child Care Association "Star of the Region" award for Region 9. This award is presented to just one family child care provider in each region for "demonstrating your commitment to children, families, and quality care."
Child Care Provider Credentials
Licensed family child care provider since 1994
Infant, Child and Adult CPR certified and kept current
AED certified and kept current
First Aid certified; certification kept current
Member of Federal CACFP (Child and Adult Care Food Program) since 1996
Associate Degree in Early Childhood Education from Fox Valley Technical College - 2003
Level Fifteen on Wisconsin's seventeen-level Registry career ladder
Qualified for:

Registry PDAS Trainer Endorsement, Master Trainer - 2015
Center Administrator
Center Director
Early Childhood Teacher
Assistant Early Childhood Teacher
Infant/Toddler Teacher
School Age Director
School Age Teacher
Licensed Child Care Provider
Certified Child Care Provider

FVTC Adjuct Instructor teaching Family Child Care Credential courses since 2013
Active member of the following Early Childhood professional organizations:

National Association for the Education of Young Children (NAEYC)
National Family Child Care Association (NFCCA)
Midwest Association for the Education of Young Children (Midwest AEYC)
Wisconsin Early Childhood Association (WECA)
Wisconsin Family Child Care Association (WFCCA)
Caregivers Helping Influence Learning Development (CHILD)
Valley Association for the Education of Young Children (Valley AEYC)

Early Childhood training from the University of Wisconsin Extension:

Caring for Infants and Toddlers
Village of Kindness: Family Child Care

A minimum of 15 hours of continuing education earned annually:

Over 34 hours earned in 2021

Over 1893 total hours of education in the field of early childhood earned to date in the areas of:

Developmentally Appropriate Practice
Child Guidance
Family Relationships
Professionalism
Observation and Assessment
Child Development
Cultural and Individual Diversity
Finance
Personnel Management
Adult Education
Community Collaboration
Safe and Healthy Environment
Organizational Management

Over 155 total professional contributions recorded:

Recipient of an award specific to early childhood
Coordinator of a child care conference
Presenter of child care workshops:

A Place for Everything - Organization
The ABC's of Anti-Bias Curriculum
The Benefits of Family Involvement
Discovering Dough - Play Dough Activities
Leadership in Family Child Care
Making Learning Visible – Observation & Documentation
Marketing for Family Child Care
Menu Impossible – Delicious & Nutritious Meals
Positive Portfolios - Children's Portfolios
Sparking Imagination – Promoting Imaginative Play
The 3Rs of Mealtime – Menu Planning

Committee member for local and statewide conference:

Fox Valley Chapter of WECA (formerly Valley AEYC) Conference Coordinator 2003 to 2021
WECA Conference Planning Committee 2011, 2015, 2016

Leadership position in statewide professional child care organization:

Wisconsin Family Child Care Association Board member 2017 - Present

Leadership position in local professional child care organization:

Fox Valley Chapter of WECA Secretary 2001 - 2005 & 2009 - 2013
Fox Valley Chapter of WECA Vice-President 2014 - 2018
Fox Valley Chapter of WECA President 2017 – 2021
CHILD Group Vice-President 2015 – 2021

Over 150 hours of early childhood college credits earned
Bachelor Degree in Music Education from Valparaiso University - 1990
Testimonials and References
Over the years I have amassed a vast collection of "Thank You" notes and other positive comments from happy families. Excerpts of these comments can be found at the top of individual website pages, while complete parent testimonials can be found on the "Why Choose Us" page.
In addition, several families whose children have graduated from my program have agreed to act as references for me. In order to protect the privacy of these parents I will only distribute their contact information during interviews. Please contact me if you would like to schedule a tour and interview, and be sure to check out where graduates of my program are now!
Copyright ©2007-2022 by Amy & Kids Co. Family Child Care. All Rights Reserved.