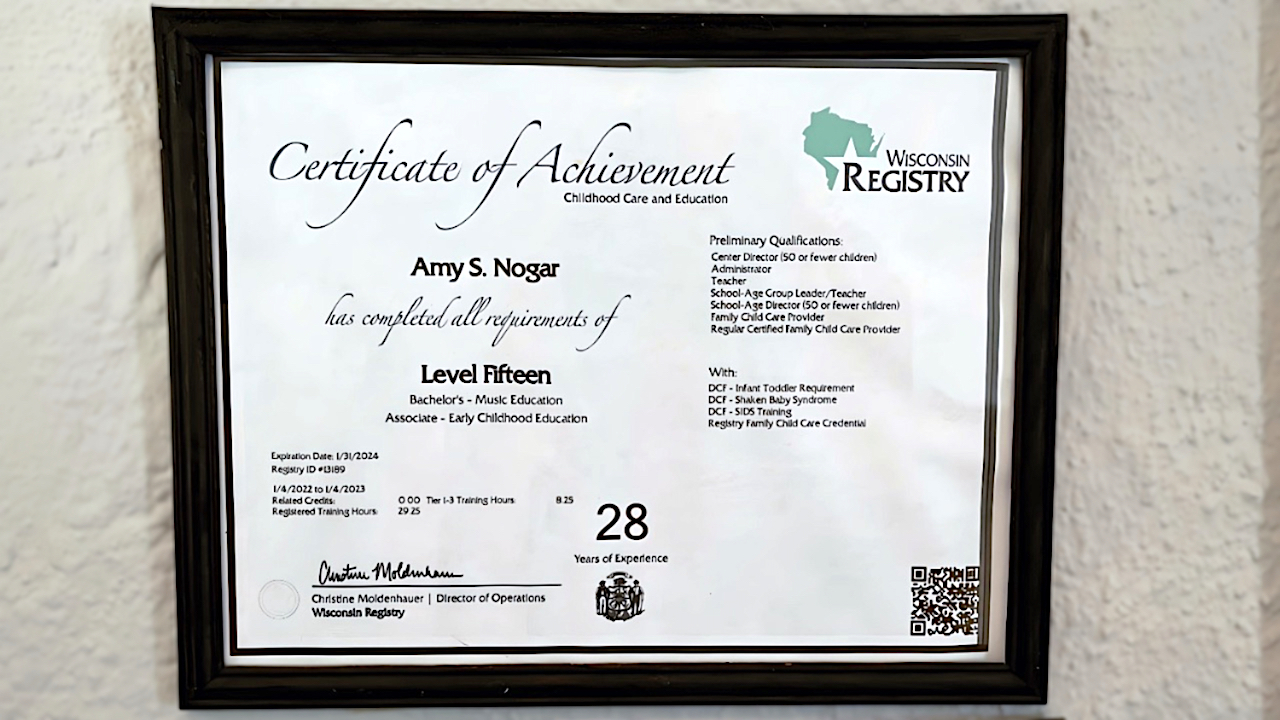 Child Care Provider Credentials
Not everyone can be a child care provider; it takes someone with special qualities to spend all day, every day, with young children. I've worked hard to gain the skills I need to provide quality care and education for your child.
In 2011 I was selected as the first recipient of the Wisconsin Family Child Care Association "Star of the Region" award for Region 9. This award is presented to just one family child care provider in each region for "demonstrating your commitment to children, families, and quality care."
Child Care Provider Credentials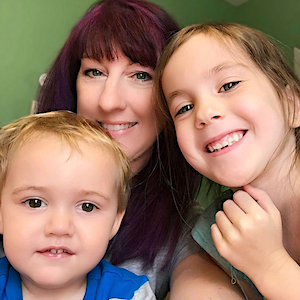 Licensed family child care provider since 1994
Infant, Child and Adult CPR certified and kept current
AED certified and kept current
First Aid certified; certification kept current
Member of Federal CACFP (Child and Adult Care Food Program) since 1996
Level Fifteen on Wisconsin's seventeen-level Registry career ladder
Qualified for:

Registry PDAS Trainer Endorsement, Master Trainer - 2015
Center Administrator
Center Director
Early Childhood Teacher
Assistant Early Childhood Teacher
Infant/Toddler Teacher
School Age Director
School Age Teacher
Licensed Child Care Provider
Certified Child Care Provider

Active member of the following professional organizations:

Caregivers Helping Influence Learning Development (CHILD)

Over 1893 total hours of continuing education in the field of early childhood earned to date in the areas of:

Developmentally Appropriate Practice
Child Guidance
Family Relationships
Professionalism
Observation and Assessment
Child Development
Cultural and Individual Diversity
Finance
Personnel Management
Adult Education
Community Collaboration
Safe and Healthy Environment
Organizational Management
Higher Education Credentials
Contributions to the Child Care Profession
Over 155 total professional contributions recorded:

Adjuct Instructor teaching Family Child Care Credential courses since 2013
Recipient of an award specific to early childhood
Coordinator of a child care conference
Presenter of numerous early childhood trainings
Committee member for local and statewide conference:

Fox Valley Chapter of WECA (formerly Valley AEYC) Conference Coordinator 2003 to 2021
WECA Conference Planning Committee 2011, 2015, 2016
Professional Child Care Organization Leadership
Wisconsin Family Child Care Association Board member 2017 - Present
Fox Valley Chapter of WECA Secretary 2001 - 2005 & 2009 - 2013
Fox Valley Chapter of WECA Vice-President 2014 - 2018
Fox Valley Chapter of WECA President 2017 – 2021
CHILD Group Vice-President 2015 – 2021
"As former Vice-President of the Valley Association for the Education of Young Children, I want to share with you Amy's professionalism and dedication toward her career. I have known Amy for many years, and we have served together on the VAEYC Board a number of times. She has been dedicated to her work and continues to strive for new ideas; sharing her knowledge and experience with others. I would recommend Amy as a high quality early childhood provider in the Valley." ~ Robin